Alpaca Clothing
...Honor Nature And Feel Like Royalty

There's no doubt that alpaca clothing is luxurious. Alpaca fleece is one of the most sought after natural fibers for luxury garments today because it is so rare.
For thousands of years the alpaca has been roaming the Andes mountains of Peru grazing on natural pastures. Historically, the indigenous people revered their fleece for warmth. In fact, their alpaca wool was once reserved for Incan royalty.



Unique Alpaca Fleece
Organic alpaca breeders carefully shear their animals annually with their natural shedding cycle and the animals are not harmed.
The average animal produces up to 7 kg of total fleece. The guard hair is removed and preparation consists of carding, spinning and weaving.
The use of dyes is often waived because of the gorgeous natural coloring of the alpaca. Clothing designs boast the natural fleece colors which vary widely and from whitest white to blackest black.
Unique and beautiful alpaca sweaters, scarves, jackets and hats are created from the natural wool colors. Alpaca fleece color combinations include shades of browns, champagnes, fawns and silver-grays.
Alpaca clothing inspires the reverence of nature. Supporting indigenous hand knitters and weavers encourages, hope, vision and promise in their lives.





Advantages of Alpaca Fleece
Extremely soft and comfortable and luxurious - smoother than silk.
Very lightweight
Superior warmth
Wearer maintains comfortable body temperature regardless of the weather
Naturally durable with the fibers being stronger than mohair
Hypoallergenic - resists dust mites
Excellent draping qualities
Naturally fire resistant
Actually warmer than sheep's wool
Soft without the prickly feeling
No lanolin - therefore it is not naturally water repellent
Readily accepts dyes but the beautiful natural colors eliminate the need for dye products
Disadvantages:
Alpaca garments require a little more care and attention.
Structured garments such as coats or finely woven items should only be dry cleaned.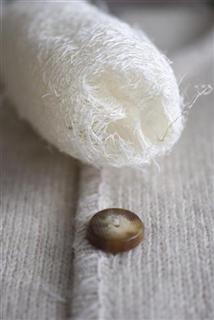 The rare and naturally organic alpaca fleece is prized and highly valued for those silky soft fibers that are finer than cashmere. Compared to wool or cashmere, alpaca fibers are 20% warmer and have little or no pilling.
This unique fleece can be blended with together with organic sheep wool for even more softness and durability. Quite often natural alpaca fleece is integrated with cotton which results in varying qualities and weights for this blend.






Alpaca Clothing Care And Cleaning
Be sure to read the garment label instructions. Structured clothing should be dry cleaned but make sure your cleaner has experience with alpaca fibers.
Hand Wash. Do not clean in washing machine. Agitation and spin cause felting of the fibers.
Water temperature - cool to tepid (not hot or cold). Use the same temperature water for wash and rinse. Varying temps can cause shrinkage.

Use baby shampoo without fragrance and conditioner. Never use woolite or bleach.
Try to handle the garment as little as possible. Gently swish and let sit for about 3 minutes, then rinse in same temperature water.
Leave garment in the sink to drain for a few minutes. Avoid twisting or wringing.
Lay out on a towel, and then gently roll it up and leave it for an additional 5 minutes. Don't squeeze or press hard.
Transfer garment to a clean dry towel. Straighten and shape. Lay flat and allow to air dry. (avoid sun)
When this towel becomes wet, transfer once again to a clean dry towel. Straighten and reshape and let it air dry.
Carefully remove wrinkles and straighten by hand. Never use a brush.
Storing And Preserving Alpaca Fleece
Make absolute certain that your organic alpaca clothing is thoroughly dry before storing.
The two best storage methods are:

fold and place in a pillow case and store inside a cedar chest or air-tight container
fold and place in a zip lock bag in the freezer

Sachets using dry lavender may be used.
Do not use moth balls.
With good care techniques, your alpaca clothes will last for many years.
Environmental Benefits
Today, alpaca farming is a sustainable resource that is gaining global recognition.

Supply of alpaca fiber is limited. The annual worldwide production is only about 4000 tonnes. Breeder farms in Australia, Canada and US are also raising awareness and creating supply.
Alpaca ranching has reasonably low environmental impact. The animals roam free on pastures that are rotated.
When ranched in this free roam habitat, there is no need for these amazing animals to be dipped for parasites. Further, with these organic methods, chemicals are not permitted on the animals or their land. The manure is distributed as natural fertilizer.



Care What You Wear...



Where To Shop
By supporting local Andean hand knitters, you preserve ancient cultural tradition and help the people in these communities escape from poverty.
Stand out in the crowd with trend-setting warmth, comfort and style that goes hand in hand with eco-friendly values. Browse Nimli eco-friendly clothing.
Have a sneak peek at the alpaca socks, scarves, gloves and a whole lot more in our A-Store. Competitive prices.




Related Pages



Return to Animal Fiber Clothing
Return from Alpaca Clothing to Home Page