Bamboo Clothing Gets 5 Stars!


Bamboo clothing is best thing since sliced bread. There's really no downside to this remarkable material that also delivers great environmental benefits.
So, if you don't already have it on your floor or in your blinds, then your bed, bath and closet are a great place to start!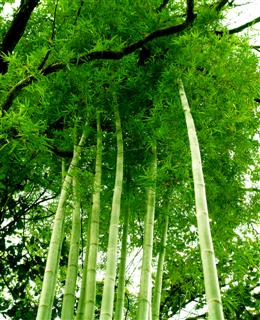 Clothes That Caress
Bamboo clothes are a gift to the world. Some people say they love bamboo fabric so much, they may never go back to cotton.
Those with tender skin or chemical sensitivities who may experience allergic reactions with other textiles (such as hemp or wool), can usually wear bamboo material without any problems.
Because of this, bamboo is especially well-suited to the delicate skin of babies and children.
Bamboo clothes are perfect for layering, mixing and matching. Adding new pieces to your wardrobe will compliment what's already in your closet.
The fabric is so versatile, you can dress it up or down. It's so comfortable and adaptable that you'll want to wear for everything from going out to dinner to just relaxing around home.
The amazing versatility of bamboo fabric makes it the number one choice for clothing. Bamboo can be spun purely or easily blended with other fibers such as hemp, silk, or organic cotton creating magical fabrics.
Designers are quickly recognizing this, and creating sharp, stylish bamboo fashions. Expect to see even more exciting new styles as this hot new fabric gains momentum.



Bamboo Fabric Benefits
The fabric is light and strong.
The material has a natural sheen and feels silky and soft. You have to feel it to believe it.
The luxurious softness is compared to cashmere. Better yet, you can buy a bamboo sweater for less than half the price you would pay for cashmere.

It drapes beautifully and is anti-static.

Has the ability to take colors well.

Has the ability to make you feel cool. It won't stick to your skin, even when it's hot.

On the flip side, you can layer it in the winter to keep you warmer.

The fabric is known for it's breathability and moisture absorption.

Odourless - Contains a natural antibacterial agent called "Bamboo kun" in the fibre which prevents bacteria growth. That helps you stay fresh and odor free.

Highly absorbent and ultra soft because of the natural ability to wick moisture from the skin - keeps you dry

Anti-fungal and hypoallergenic - even after fifty washes.

Dries quickly - about twice as fast as most other fabrics.

Resists wrinkling (without the use of formaldehyde which is added to cotton/polyester for this quality)

Refreshing because it's breathable

Natural UV protectant - cuts out about 98% of harmful UV rays

Perfect traveling clothes - the wrinkles fall right out so there's no need to iron.

Bamboo is biodegradable
Disadvantages
We haven't discovered any disadvantages to bamboo clothing other than that it may not be ideal for screen printing.



Bamboo Clothing Care
With bamboo cloth, there's no need for expensive dry cleaning!
Recommended to wash in warm or cold water on the delicate cycle.
Most manufacturers recommend washing without bleach or fabric softener, but you can use dryer sheets.
You can line dry light garments, but heavier garments should be laid flat dry to dry.
Tumble drying 100% bamboo clothing will cause them to lose shape much sooner than if you stick to line drying only.
Garment washed products are preshrunk and may be tumble dried on low for a short time. If it hasn't been garment washed first, you can expect up to 3% shrinkage.
Iron garments on LOW heat, if you really insist. Set iron heat to "synthetic" setting, but no higher. Do not use steam because if your iron spits, it can cause noticeable rings on the fabric. These will disappear when laundered again.




Amazing Environmental Benefits
Bamboo is one of our planet's greatest phenomenons. It has the ability to sustain us with our three basic needs - food, shelter, and clothing. Not many plants that have those bragging rights.
Bamboo is so durable, flexible and versatile, that it has endless potential and unlimited uses. The big surprise is that this plant is really the new popular source for clothing, and it's an environmentally friendly choice!


Moso bamboo is the type that's used to produce bamboo fabric. This is the same type that you eat bamboo shoots from, but not the same type that panda bears thrive on.
Bamboo has a less devastating impact on our health and environment from crop growth and harvest to the eco-friendly manufacture of bamboo clothing.
Bamboo fabric is made 100% from bamboo. The woody plant parts are broken down into mush by natural enzymes. The fiber is made by wringing, combing and spinning the fiber into yarn called bamboo linen. The fiber itself is similar to unspun cotton. It looks and feels like a puffball.
Bamboo is actually a grass species. It's one of the world's fastest growing plants. Some types can grow up to a meter per day and reach maturity in 3 to 4 years. Compare that to the growth rate of trees which don't fully mature for 25 - 75 years.
It doesn't cause pollution.
It doesn't need replanting, doesn't require much water for growth, and has the ability to handle either drought or flood.
Bamboo is naturally resistant to disease and is easily grown without any chemical fertilizers or pesticides.
The root system anchors and sustains the soil, reducing erosion.
Because the fibers degrade naturally, soil quality is improved as Mother Nature intended.
When you examine equal volumes of timber and bamboo, the bamboo takes in five times the volume of greenhouse gasses and generates 36% more oxygen.
Compared to cotton, the yield from an acre of bamboo is about 10 times greater than the yield from one acre of cotton.
Chlorine bleach is not necessary. Some companies use bleaching processes to whiten the fibers. Companies producing organic bamboo clothes leave the fibers unbleached.
Bamboo clothing is 100% biodegradable.



Care What You Wear...



Shop Till You Drop
The eco-fashion market is growing rapidly, and there has been a lot of focus on bamboo clothing. Be sure to stop by some of my favorites for a peek at the amazing bamboo clothes they have to offer.
The styles at Peaceful Valley are sure to be just as eye-pleasing as they are comfortable.
If you have an organic clothing store in your area, check it out. If not, be sure to browse the A-Store for a great clothing selection for the whole family, not to mention unforgettable bamboo sheets, and towels.


Nimli
- fashion a la carte! These designer fashions have been featured in Glamour and In Style magazines. Get the high end look without the high end price.
Do you want to be eco-chic? If you answered yes, then these styles are the ethical fashions you've been looking for. Conscientious designers at Greenloop have put green style on the map and made eco fashion COOL.


Bamboosa
serves up certified organic bamboo in comfy, casual styles that are perfect for every season. I highly recommend you try out a bamboo tee or tank.



Looking For Something Specific?
Return from Bamboo Clothing to Home Page