Is Organic Cotton Really Better For You?
Find Out The Truth


Organic cotton has gained popularity the fastest of all the natural fibers and is now is moving full speed into mainstream clothing production. It has been instrumental in raising awareness and spear-heading the change of all fiber production to organic methods.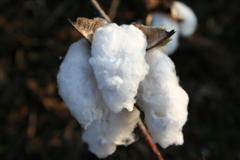 Natural cotton is the most recognized of all organic fibers because of it's profoundly positive eco-footprint. The crops are free of agrochemicals and organic producers must comply with strict regulation and criteria.



Undeniable Benefits
No toxic chemicals, carcinogens or toxic gases
Must be processed and finished without chemicals to maintain organic certification
Easier on your skin and healthier for your body.
Hypo-allergenic
Especially good for people with chemical sensitivities
Natural softness and comfort
Breathable
Absorbs moisture very well
Naturally grown earth-tone shades of mocha, tan, browns, greens and reddish browns
Every organic cotton T shirt saves 1/3 of a pound of toxic chemicals from land, rivers, oceans and air. One pair of jeans saves 3/4 of a pound
You make a difference




Clothing Care
For the first wash, add 1/4 cup vinegar to the final rinse to set the color and avoid bleeding or fading
Wash inside out, especially for prints
Do not use harsh detergents
Avoid bleach which will fade colors and weaken fibers
Separate light and dark colors
Hang to dry - drying with too much heat can cause shrinkage up to 10%



Is It More Expensive?
Because of the higher cost of producing and manufacturing organically grown cotton, consumer end prices can sometimes be slightly higher. However, more and more companies are rising to meet the demands of organic fibers, so pricing is now much more competitive and affordable.
Organic producers and manufacturers are showing their environmental leadership. As a result, organic cotton clothing is gaining mainstream momentum. Some companies use 100% organic fibers, while others blend organic cotton with other fibers like bamboo, hemp, or soy. In an effort to become more eco-conscious, still others producers are implementing a percentage of organic cotton into their designs.
The pioneers of all three methods will inevitably promote further industry development. Adding to overall awareness are giant retailers, who are becoming more organic in nature, and stocking a wider range of organic products.




Why Switch?
By buying eco friendly cotton clothes, consumers are creating both an expanding awareness of our desire to buy healthy products and promoting fair trade practices. This will add momentum to a worldwide goal that will save lives, help eliminate poverty, and improve our natural environment.
Make The Switch to a healthier choice. If not for environmental reasons, then embrace natural cotton baby clothes and baby bedding for the long term health of your children.


If, for some reason you're still not convinced, please read on...




Environmental Benefits - But First The SHOCKING Truth
In order to fully understand the environmental, social and human benefits of organic cotton, we must take a good, hard look at conventional cotton growing. There are some disturbing statistics:
Currently, conventional cotton production dominates the global fiber industry. Traditional cotton growing farms are one of the worlds most environmentally destructive practices.
There is critical health risks for workers in the traditional cotton growing fields, who are subjected to cases of family health-related problems ranging from long-term memory loss, birth defects, paralysis, and even death.
The health of workers throughout the growing and manufacturing process is jeopardized by the potential of allergies, poisoning and cancer caused by the use of harsh toxins.
Traditional cotton not only is disastrous for the environment at the growing and manufacturing levels, the end consumer also faces serious health risks. Aside from absorbing harmful chemicals through our skin, conventional cotton clothing and textiles also emit a gas from the fabrics into our homes.
Agrochemicals used in conventional cotton growing have a seriously damaging and long lasting environmental impact. These poisons are known to cause a multitude of very serious human illnesses while polluting the earth's delicate eco-systems which affects all nature.
Cotton crops account for 3% of world's farmland with 15% of global pesticide use

Over-application of fertilizer and pesticide agents have resulted in severe contamination to the extreme that some land becomes barren and unusable.
Seven of the top fifteen pesticides are considered as "possible", "likely", or "known" carcinogenic.
Common chemicals used are formaldehyde, heavy metals, nickel, lead, chlorine bleach, pesticides herbicides, fungicides, and defoliants which all cause irreparable damage.
At least 8,000 chemicals are used to manufacture raw materials into our clothing and linens.
According to the World Health Organization (WHO), 20,000 deaths occur each year from pesticide poisoning in developing countries, with many of these from cotton farming.
Growing cotton alone uses about one-quarter of the world's insecticides.

Needless to say, increased awareness regarding the use of chemicals which result in ecological damage and personal health issues has raised grave concerns regarding cotton production.




How Is That Different From Organic Cotton?

Sustainable organic cotton farms utilize cleaner growing methods which encourage long-term good human and ecological health.

In order to be certified organic, a field must be pesticide-free for a minimum of three years and cotton processing must adhere to organic standards.
Fields are kept free of synthetic chemicals so human and wildlife is not compromised. Strict testing is implemented to ensure the absence of contaminants, maintaining environmental balance.
Natural compost used as fertilizer replenishes the land.
Crop rotations nourishes and maintains soil fertility.
Beneficial insects are used to control pests.
Weeds are controlled by manual and botanical methods.
Seed is not genetically modified.
Manual farming reduces fuel and water consumption, toxic runoff and greenhouse gas emissions.

In short, holistic approaches do not compromise humans, wildlife and eco-systems.




Care What You Wear...

We all have the responsibility to affect positive changes in our world and we have the power to make an huge impact one piece of clothing at a time.




Our favorite places:

If you like fashion, you'll love NIMLI. An amazing menu of designers serve up a smorgasbord of eco chic fashions that are even worn by celebrities. Cure your fashion hunger with modern eco-chic style. Be good to yourself. Be good to your planet.





Take a walk on the green side at Greenloop. There's something for everybody - from casual to cutting edge. Men, women and kids will adore these ethical fashions by conscientious designers. Shop by brand and get 15% off your fist purchase.







Peaceful Valley Definitely casual fashion at its best. A great selection of earth friendly styles to enhance your wardrobe and support your values. Find the wardrobe essentials that everyone needs at every day affordable prices.







A trusted site featuring a marketplace of unique organic and eco-friendly products from UK based ethical businesses. This allows you the chance to buy green from small business who may not otherwise offer their products online. Browse a wide range of fair trade fashions for the whole family.



Related Pages




Return from Organic Cotton to Home Page