Soy Clothing Superior Softnes
Feels Like Your Second Skin
Your initial thoughts about soy are probably of organic, healthy foods. Soy clothing will help you go organic too.
Clothes made from soy protein fiber (SPF) may sound a bit unusual but it's actually a very conscientious option when it comes to greening up your wardrobe.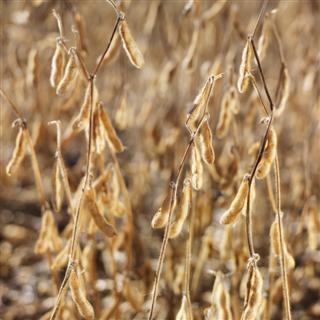 Eco-friendly soy silk is made from soy protein, which is a by-product of tofu manufacturing.



An Intriguing History
Soy silk sounds revolutionary and cutting edge, but oddly enough, soybean fiber isn't new.
It was actually invented by Henry Ford, founder of Ford Motor Company in 1937. In fact, he made a suit and tie from this unique fabric, which he wore to promote soy beans. Ford vehicles were also decked out with soybean fabric upholstery.
Soybean fiber was all but obliterated after WW2 by the sale of rayon, nylon and cotton. Decades would pass before the fiber would be reborn in 1998.



Did You Say Cashmere?
Yes! The unique light softness of soy fiber has earned it the title "vegetable cashmere" or "soy silk."
This fabric is still very new and is mostly sold in China as the majority of the manufacturing is based there, but it is making its' grand entrance worldwide.
As the western world becomes more eco-conscious, expect soy silk to quickly become popular and work it's way into the fashion mainstream.



Superior Characteristics Of Soy Clothing
Luxurious appearance
Fabric is soft, smooth and light
Naturally has the light, smooth, soft feel of cashmere
Light-reflecting properties gives the luster of silk
Elegant draping abilities
Anti-wrinkle
Provides better ventilation than cotton
Higher breaking strength than wool, cotton or silk
Good absorbency - moisture absorption equal to cotton
Warmth retention like wool
No shrinkage
Antibacterial qualities
Color-fast and has good dyeing properties
Sunlight resistant
Perspiration fastness
Dries quickly and easily
Very lightweight - perfect for undergarments or summer wear and excellent for kids clothes
Natural golden color
Soy clothing is a natural competitor to conventional silk. Soy fabric will pill much like cotton fibers. Be sure to cut them off rather than pulling on the fuzzies.



Soy Clothing Care
As always, follow the care labels attached to your garment. Soy clothing is easy wash and dries quickly. Just remember that high heat damages the fabric. To make any of your clothing last longer, it's wise to be a bit gentle.
No dry cleaning is necessary
Hand wash or gently cycle in cold water
Wash dark colors separately
Hang or lay flat to dry
Vegetable cashmere garments can be ironed on a low setting without steam



Fiber Blending
Soy fiber can be blended with other fibers to enhance the benefits of each. Here are some examples:
When blended with wool, the result is ease of care, reduced shrinkage, luster and softness.
Blends with silk prevent the fabric from sticking to the skin. It becomes more stain resistant and moisture permeable.
Cotton blends enhance the luster and improve drape. The fabric is more moisture permeable and dries quicker.
Enhances the luster, comfort, drape and ant-pilling properties of cashmere resulting in smooth quality and easier care. Also lowers the cost of cashmere.
Because of it's unique softness and absorbency, it is wonderful to wear close to the skin and is perfect for baby and childrens clothes. It's also great for underwear, sportswear, sheets and towels.



Exceptional Qualities
Soy protein fiber promotes health with it's unique natural health functions. Soy silk fiber possesses amino acids essential for the human body.
Vegetable cashmere is rich with 45% protein content in the fiber. It is said to contain 18 kinds of active minerals which aid in bio-chemistry when naturally absorbed through the skin.





Environmental Benefits
These days, everyone is concerned about the environment and opting for "greener" fiber options. In the dawn of the earth friendly clothing market, soy is a highly sustainable source for organic fiber.
Organic soy crops support Mother Nature by being grown without fertilizers, pesticides and herbicides. Fertility is added back to the soil rather than depleting it, making soy agriculture an ecologically sound option.
The soy proteins for clothing are extracted from the residual by-product of soybean oil or tofu production, which is recycling at its best to begin with.
From there, manufacturing is eco friendly. The soy protein is liquefied, then the fiber is produced by wet-spinning. Soy silk does not contain petroleum. It is biodegradable.



Soy Clothing Is Eco-Fashionable
Soy fabric has sparked the interest of designers to utilize soy yarn to weave into garments. Most of the styles produced so far tend to be relaxed and casual.
Soy is breaking into the marketplace with a promising future ahead of itself so keep an eye out for sexy soy clothing.
You'll be able to experience for yourself why it is called vegetable cashmere and enjoy the ultra softness that feels like a second skin keeping you warm and comfortable.



Care What You Wear...
Give your skin a treat. You don't have to sacrifice detail or femininity. If you're looking for oh-so-soft camisoles, briefs and nightwear, browse the selection at Nimli. Fashions created by renowned designers who make eco chic exciting and affordable.
Want to dress your man in trendy soy clothes. No problem. You'll find soy socks, briefs, tees, and hoodies at our Amazon store.


Related Soy Pages
Return from Soy Clothing to Home Page