The Wonder Of Exotic Pina Fiber
Pina fiber is the ingenious fabric derived from the leaves of the Spanish Red Pineapple. and is the finest of all Philippine hand-woven fabrics.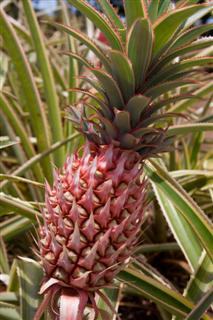 Pineapple fibers are an ivory-white color and naturally glossy. This delicate and dreamy cloth is translucent, soft and fine with a high luster.
Since piña fabric is hand loomed by only a few weavers, it is very precious and scarce, which also makes it expensive.
The major end use of Pina fiber is the Barong Tagalong, wedding dresses and other traditional Philippine formal dress. It is also used for table linens, mats, bags and other clothing items.
Because it is lightweight but stiff, this sheer fabric can be used in any creative design. There are few clothing items more beautiful than those made from pineapple. I do know this exotic fabric is on my wishlist.
The traditional decoration for this fabric is a style of hand embroidery called calado. An embroidered piña garment is called piña calado. These handwoven fabrics are colored with vegetable dyes originating from leaves, and bark of different trees.
Pina fiber is often blended with cotton, abaca, and silk to create wonderful light, breezy fabrics. When woven with silk, it's called piña seda or piña-silk. Piña jusi is blended with jusi (abaca or silk) for strength and sheerness and is less expensive than 100% piña.



Fabric Benefits
Regal and timeless are the two words that come to mind. In fact, piña is often traditionally used for wedding attire.
beautifully elegant appearance
lightweight
blends well with other fibers
similar in appearance to linen
softer than hemp
more texture than silk
washable and easy care
no dry cleaning



Fabric Care
Dissolve a small amount of mild detergent in warm water.
Soak to free dirt and stains, then gently hand wash. If the fabric has yellowed, add vinegar to the water and soak overnight.
Use a soft toothbrush to scrub off stubborn dirt (don't scrub embroidery)
Rinse in an up/down dipping motion. Do not twist or wring.
Hang (on plastic hanger) and shape to drip dry or lay flat to dry.
Iron on low to medium setting while still damp.

never pull fabric to straighten
if desired, you can apply spray starch
iron the back side where embroidered
hang carefully

Store hanging and coved with a dark, breathable cloth to prevent discoloration.



Piña Fiber Extraction By Hard Working Hands
The specific pineapple plant grows spiny leaves up to two meters in length, which are first cut from the plant.
The leaves are stripped by pulling or scraping the fiber away with tools made from coconut shells or pottery shards.
Extraction from the long, stiff leaves is time consuming and labor intensive.
These fibers are then spun into soft, shimmering fabrics by hand. Because the fiber is fine and breaks easily, working with it is slow and tedious. Workers are constantly knotting broken threads.
The resulting lightweight, transparent fabric is positively beautiful.




Pina Fiber Turns Over A Brand New Leaf
During the 19th century, pina fabric was in demand worldwide. However, production ceased and all but disappeared when cheaper cotton fabrics took over.
By the mid eighties, pina fiber was nearly impossible to find, with only a handful of aging, part-time weavers.
Re-establishing the piña trade has been very difficult.
It began with marketing the piña barong (embroidered traditional formal garment) locally which eventually influenced the elite. This campaign elevated pinya fabric to become a symbol of status.
Domestic support also marked the beginning of a foundation dedicated to the revival of Philippine arts, crafts and culture.
Fortunately, traditional piña weaving has survived being dangerously close to disappearing and production has since begun to flourish. Now once again, pina fiber has great prospects for the future.



Dream Weavers
The piña weaving industry has allowed people the employment opportunities needed to substantially improve their lives.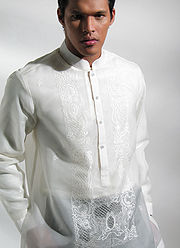 Weaving and embroidery jobs enable women, especially, to earn salaries that allow them to be home rather than being forced to travel abroad to become domestic workers.
With their passion, these talented weave artists create this unique dream fabric, often with the most intricate designs imaginable.
Pinya cloth is simple and elegant. Products created are considered a work of love and patience. Therefore, a piña garment is considered as an heirloom.
Training weavers is difficult, however, since it requires meticulous patience and dedicated practice.
Those working for 8 hours/day on a plain weave can finish one meter of cloth in a day. These weavers earn about P3000 (pesos) per month. At today's exchange, that translates into about $63.00 USD.
A weaver working 8 hours per day on a cloth with a design can finish one-half to three quarters of a meter. Depending on the intricacy of the design, they earn from P5000 to P9000 (pesos) per month. That would be roughly the equivalent of $105.00 to $190.00 USD.
As pina fiber production gains momentum, thousands of jobs for weavers are created.
This will lead to huge potential and economic rewards for indigenous weavers, their families, and their communities. It will raise the standard of living and benefit the country.



Salvation
As yet, though, local profit margins are small, and are likely to remain so until they can propel themselves into the world marketplace. In order to fully revive this traditional industry, cooperatives need to work together for development, funding and international fair trade.
Currently designers and retailers are making the most money. The key is to increase profits for the local weavers.
This can be accomplished through the continued efforts of local organizations such as the Department of Trade and Industry and the Advocate of Philippine Fair Trade, and the Aklan Pina Manufacturers & Traders Association.
By continually re-introducing pina to the world through such efforts as the Aklan's Fiber Festival and annual feature presentations in Manila fashion shows, the world is beginning to wake from its' sleep.
However, piña has yet to secure a global presence
Through the return to their ethnic roots and age-old traditions, the piña salvation is just beginning to enter the limelight. Businesses are striving to meet current export orders to Japan, Hong Kong, USA, France and UK.
International awareness, promotion and marketing of pina cloth will help change the regions economy by putting piña fabric industry on the map.



Sustainability And Environment
Pineapple crops are a natural resource. Spanish Red or Native Philippine Red pineapples take about 18 months to reach maturity.
Conventional pineapple growers typically used chemical fungicides and pesticides which destroy the soil.
However, the good news is that pineapples respond better to rich soil, and now an increasing number of organic farmers are producing organic pineapples. There's no doubt that highly sustainable pineapple crops leave a friendlier footprint on our environment, especially with the movement toward organic.






The Fashion Spotlight
Filipino designers are using pina fabric for domestic ethnic designs (like the barong). Recently, Philippine fibers have been promoted to top fashion houses and piña pineapple fabric was officially re-introduced to the world.
Global fashion designers are always searching for innovative materials and new ideas to give them an edge in the industry. Pina fibers have the potential to greatly influence fashion.
To date though, adequate supply remains a challenge.
Consumers can play a pivotal role in the re-introduction of pinya fabric with demand and support for natural fibers for clothing.
By doing so, we give strength to the indigenous growers and weavers of developing countries.



Related Pages
Return To Plant Fiber Clothing

Return from Pina Fiber to Home Page