Green Is The New Black
And Bamboo Apparel Is COOL!

Bamboo apparel is rapidly growing in popularity. It's not just alternative clothing for the eco-conscious any more. You're actually really cool if you have a bamboo clothes!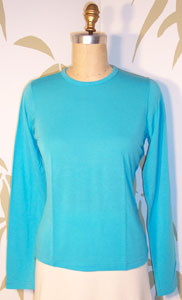 Add Some Green To Your Closet
Consumers want easy care, eco-friendly fabrics that are versatile, look nice, feel good and travel well.
The natural luster, softness and anti-static qualities of bamboo are exceptional for everything from sports to the office.
Styles range from sports and yoga wear to sophisticated shirts, skirts and dresses.
Greening up your wardrobe is fun and easy with bamboo apparel because it easily fits every lifestyle. Both eye-pleasing and comfortable, it quickly becomes a must for your wardrobe.

Bamboo clothes are a blend of not only fabrics - but also of fashion and environmental values.

Making your positive mark on the planet is a breeze when you outfit the whole family, from infants and toddlers to adults.
Everything from their clothing to their bed linens will soon become the favorites they never want to take off.
Good luck, getting them into the wash!



Bamboo Shirts Out-Perform The Competition
Nowadays, people are expecting performance from their clothing.
Bamboo fabric's natural ability to wick moisture and reduce odor is well established. The comfort level is renowned with sports enthusiasts.
The only weakness to bamboo apparel would likely affect only those seeking sportswear. If the wearer sweats heavily for a long period when wearing bamboo beneath other layers, the evaporation doesn't work as well. However, as a single layer, it outperforms the competition.



Soothe Your Feet In Bamboo Socks
If you have problem feet, worry no more. You can soothe, refresh and heal tired feet with the unprecedented comfort of bamboo socks.
Because bamboo has antimicrobial and antibacterial properties, it has the natural ability to deodorize and fight microbes that cause odor and infection.
In fact, studies have shown that clothing containing 100% bamboo fabric is known to have a high bacteria kill rate.
This is certainly great news for anyone suffering from athlete's foot or foot odor problems. Comfort levels increase because that irritating itching and burning disappears. Bamboo socks promote healing and the skin returns to normal.
Sufferers enjoy renewed self-confidence when they feel fresh, clean, dry and odor free.
Because bamboo socks are so soft and lightweight, they are often a good choice for people with diabetes.
Treat yourself to some bamboo socks. Guaranteed, your feet will love you!



Bath And Bedtime

Bamboo towels, robes and sheets make bath bath and bed time a sensation for the whole family.It just doesn't get any better.



Care What You Wear...



Shop With Confidence