Enhance Your Life!
Sleep Green In Organic Wool Bedding

Did you know organic wool bedding will enhance your sleep...and your life?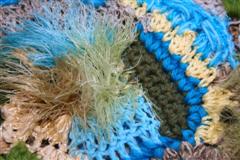 Most people function best with an average of eight hours sleep a night - that's roughly the equivalent to 120 days per year in bed.
That' makes it all the more reason for you and your loved ones to have a clean, fresh and healthy nights sleep.
A growing number of people suffer from allergies or chemical sensitivities.
Others are refusing to spend their rest time in close contact with the toxic chemicals used in conventional mattresses and bedding.
Instead, they are opting for a natural mattress and organic bedding.
You deserve the very best sleeping environment. Using natural and organic bedding provides a comfortable, non-toxic environment for a naturally refreshing nights sleep.
Make stress, worry and anxiety a thing of the past when you rest in pure comfort.



Organic Wool Mattress
A good nights rest begins with the all-important mattress. That includes your
baby's mattresses too.
No matter what temperature it is in the room, your family will be perfectly comfortable. Organic wool naturally regulates the body temperature and adjusts the climate zone through it's unique wicking and breathing characteristics.
Mattresses made from pure wool and organic cotton ensures that harmful chemical toxins are not inhaled during sleep. Good health is promoted - allergies and breathing difficulties are significantly reduced, if not eliminated.
Knowing that your family can sleep soundly through the night free of any dangers lurking in your beds works wonders for your peace of mind (and daytime energy).



Bad News...Good News
Almost everyone likes to cocoon themselves in their beds, and some like to bury their face into the pillow or pull the covers up right to their nose.
Many of us have done that for our entire lives... without knowing what we were breathing in!
It's not good.
Traditional cottons and synthetic bedding materials contain contaminants in the fibers which are known to cause health risks in humans.
These toxins (dioxins, fire retardants, pesticides, etc) can cause breathing difficulties and restless nights. They have also been known to cause congestion, allergies, skin rashes, and worse. Many of the chemicals used in processing traditional bedding and linens are known carcinogens.
Nasty bacteria and dust mites thrive in warm, damp, and dark places - they love beds.
Everyone gets warm and sweats in bed every night. The average adult can perspire as much as a pint of water in an eight hour sleep cycle. That is especially evident in our pillows.
So take a guess what's lurking in there!
That's the bad news.
Now for the good news!
Organic wool bedding and mattresses naturally regulate body temperature, ensuring that you never feel overheated. The fabric wicks away moisture, preventing the discomfort of sticky nighttime sweat.
Organic wool "breathes", which means the moisture is released to evaporate, making it naturally resistant to bacteria and dust mite reproduction.
Other enormous benefits of organic wool bedding are:
natural and healthy
free of bleaches and other toxic chemicals
dust mite repellent
water repellent
naturally fire retardant
hypoallergenic
free of harsh dyes
less likely to cause sensitivities
mold and mildew resistant
Organic wool bedding and mattresses are recommended for a restful, pain-free sleep for people who suffer with arthritis, rheumatism, fibromyalgia, diabetes, and back pain.
Studies have also revealed that wool filled comforters significantly lowers the heart rate, resulting in improved sleep.
Other healthy alternatives for healthy bed with natural purity, comfort and freshness are organic cotton and bamboo blankets.

Say so long to sleeping in a toxic bed!
Say hello to an outrageous sleep in fresh, clean, pure, and organic. Your family's long-term good health depends on it.



Related Pages



Organic wool
Organic merino wool
Pure wool clothing
Conventional sheep wool
Return from Organic Wool Bedding to Home Page