Discover Organic Baby Wool
Irresistable Softness & Comfort


It's true. Organic baby wool clothes and blankets are super soft, warm and comfortable for baby's delicate skin.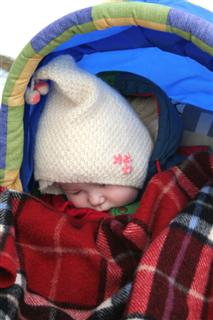 There was a time when parents avoided putting wool next to their babies skin because it was itchy and scratchy.
That time has passed.
Nature has created a perfect fabric that has become even better now that it's organic.
Wondering how that makes any difference?
You may be surprised to know that it makes all the difference in the world. Most often, sensitivities to wool are caused by the lingering chemicals used in processing and not the wool itself.
Because organic wool is processed without harsh chemicals like those found in conventional wool, it is far less likely to cause any irritation and far more likely to provide allergy relief and be safer and healthier for your little one.
Parents want to provide the very best care possible for their babies. That means choosing the products they will use very conscientiously and that's why the benefits of organic wool are so highly valued.

Your baby deserves a natural sleep that is free of carcinogenic chemicals and you deserve the confidence and peace of mind.



Organic Wool Baby Clothes - Chemical Free
Either you're preparing for your baby or your little bundle of joy has arrived. Either way, you want to make the wisest choices for your little one's healthy and natural environment.
Organic baby wool clothes are free of the chemicals used in conventional wool processing - many of which are known carcinogens. These include oils, formaldehyde, dioxin, fire retardants, arsenic, pesticides and any other dangerous synthetic petrochemicals.
That alone is reason enough to discover organic wool. But if you're still worried about that itchy, scratchy feeling, then you'll definitely like products made from organic merino wool .




Why You Should Choose Organic Wool Baby Bedding
Organic wool bedding fabrics are softer because they are chemical free. They are gentler on baby's sensitive skin and provide a safe resting place for your little angels.
Natural wool absorbs moisture and regulates temperature, keeping your child warm in the winter and cool in the summer.
Surprised?
I was too until I understood why...
Babies, like adults, are cooler when they go to bed. Their body temperature goes up during the night. Often they'll kick the blankets off because they get hot and sweaty.
Later in the sleep cycle, their bodies cool again. Until they've grown enough to pull their blankets back up themselves, they're left uncomfortable.
The springy fibers of organic wool create air tiny air pockets that insulate and evenly maintain body temperature.
Organic wool has natural wicking abilities. That means it pulls moisture away from the body. Because the fabric "breathes", the moisture is released into the air to evaporate, rather than being trapped in the bed. That means a reduced risk of asthma and allergies.
Why?
Everyone, even babies get warm and perspire during their sleep. The ultimate breeding ground for dust mites and bacteria is a warm, dark and damp environment. Without it, they don't reproduce.
That's why the wicking and breathing abilities of organic wool are so important. It creates a naturally hypoallergenic environment for your little ones.
Using a wool mattress cover and a wool baby blanket creates a natural climate zone which will put an end to restless nights that can sometimes lead to grumpy days.
For a safe, healthy and natural bed, we recommend you choose organic wool, organic cotton and bamboo baby bedding.







Organic Crib Mattress
Baby's tender skin is up to six times more sensitive than adult skin, and their little bodies are vulnerable to chemical toxins. Therefore, your child's mattress is one of the most important factors to consider.
Conventional mattress typically contain hazardous chemicals such as heavy metals, defoliants, mineral oils and flame retardants. Evidence has linked chemical gas inhaled by a sleeping child to Sudden Infant Death Syndrome (SIDS). Organic baby wool mattress, comforters and blankets are naturally fire resistant. Wool is difficult to ignite and is self-extinguishing.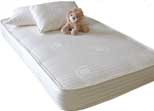 An organic baby mattress provides a healthy environment for a chemical free sleep. The fabric is soft, comfortable and non-irritating.
These mattresses are often created from a combination of purest materials including organic wool batting, organic cotton fabric, and 100% pure, natural rubber.
Make sure your baby has the best. Check out the Green Nest for natural, healthy and affordable crib mattresses. There is no doubt that organic fabrics provide an optimized healthy sleep solution for your child.
Costs for organic baby wool mattresses, comforters and clothing are comparable to slightly higher than their toxic counterpart. However, they are made of natural, pure fibers and have proven to deliver better air and sleep quality.
Knowing that you make a difference in your child's health today, and the world they will grow up in tomorrow makes an organic baby wool mattress the best investment you'll ever make.



Care What You Wear...



Recommended Wool Baby Clothes, Bedding And Mattresses
Related Organic Wool Pages
Return from Organic Baby Wool to Home Page